Polypropylene sealing lids
Would you like an alternative to the established sealing lids?
---
Due to their mono-packaging, PP lids can be put into the recycling loop together with cups made of polypropylene. The mono-packaging is clearly ahead in terms of CO2 footprint, circular economy, price and recycling. Separating the lid and cup is not necessary. Moreover, since the combination of packaging does not use metal, the sealed products can be checked with metal detectors.
Furthermore, PP lids meet all safety regulations and requirements in the food sector and are suitable for microwaving up to 100°. With the PP lid, hot filling up to 90° is possible. The sealing plate ensures secure sealing even at lower sealing temperatures.
Polypropylene does not react with lactic acid, is free of solvents and neutral towards food. PP lids are a very good alternative for sharp or acidic foods, such as products containing paprika or tomatoes.
Due to the white base colour of the film, the colours appear strong and the print shows a very nice picture. The PP lids have a comparably high puncture resistance, which reduces the risk of food leaks.
Yoghurt lid and cup becomes a mono-pack made of polypropylene (PP)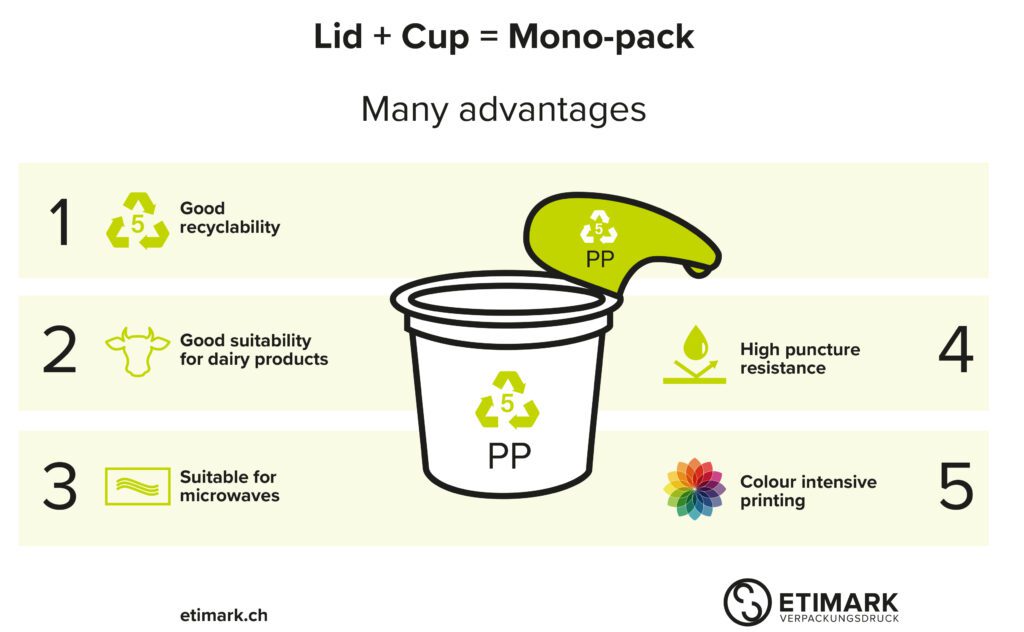 ---