Printing
Effective flexo printing
In the name of our printing machine MPS 330 EF, the acronym "EF" stands for "Effective Flexo". The machine's effectiveness is ensured first of all by the servo drive. Thus, even single foils that are sensitive to heat can be easily printed without colour fringing. The multi-drive technology makes it possible to transport the material pipeline independently of the printing or finishing process. Crisp.Dot is a technology that ensures minimal dot gain, best ink coverage in solid areas and sharper reproduction of small font sizes. The quality of our print results is close to that of offset printing – and we achieve these results with up to 8 colours. Thanks to our integrated silkscreen, lamination and foil embossing stations, we also manage to fulfil demanding requirements in terms of finishing results.
UV flexo printing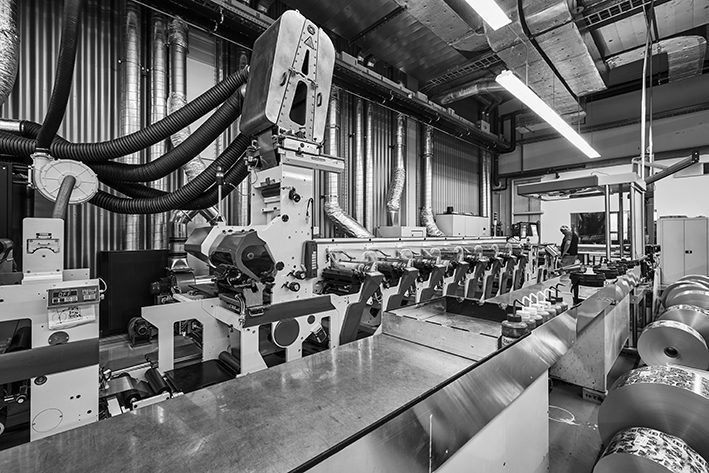 The UV flexo printing process is a letterpress printing procedure in which pre-existing parts of the printing plate are used to absorb and transfer colours. Since flexographic printing plates are particularly elastic, they are especially suitable for varnishing. The inking systems have a simple structure: the printing plates colouring process is executed by means of anilox-rollers. The indentations on the roller surface enable the roller to transport a defined quantity of ink. This, in turn, allows for a high level of standardisation. While solvent or water based inks are dried physically, in UV flexo printing a polymerization of colours or varnish is obtained by exposure to UV rays (beam hardening). The hardening reaction takes place in a split second. This helps reduce typical symptoms of the flexo printing process caused by the elastic printing form, such as pinched edges or high dot gain. As they are solvent-free, UV hardening inks are particularly environmentally friendly.
Digital printing
Our goal – cost-optimized production
Next-generation lid and label production. Inkjet, unlike conventional printing processes such as UV flexo, offset or gravure, is a non-contact printing process and therefore does not require printing plates.
Countless advantages
No printing plates, less ancillary costs!
Low-migration printing inks
Wide color range
High opacity of colors
No register differences
100% reproducibility of print jobs
Hardly any waste during production
Sustainability and conservation of resources
Affordable small series for test markets etc.,
Personalizable design, variable printing of serial numbers
(there are completely new marketing options, e.g. regionalization, profit codes,etc.)
Very flexible delivery times
Proofs on original material and 100% match to the print run
"Our goal is cost-optimized production. The color printing result in both digital printing and UV flexo printing should be absolutely identical. We decide for each job in which printing process it will be produced."

— DARKO RONCEVIC, Head of printing / assembly