Certificate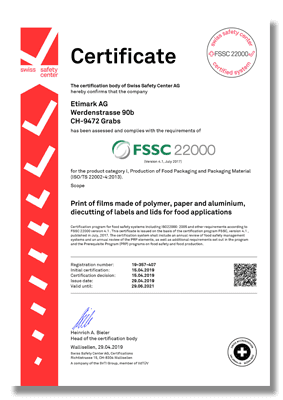 In 2000, Etimark AG was one of the first packaging printing companies to be certified according to the ISO 9001: 2000 standard and a little later according to the BRC Global Standards. We are proud of this to this day.
As an important supplier to the food industry, we are aware of the high demands that our role as packaging manufacturer in this supply chain entails. We have been subjecting our company to strict hygiene standards for many years and have ensured the highest level of transparency and therefore complete traceability.
Due to the developments of the BRC standard, we decided to recertify the operation in 2019 according to the international standard ISO 22000. The independent standard FSSC 22000 for food safety based on the international norm ISO 22000 and ISO 9001 is recognized by the GFSI. We are convinced that we prefer the best solution in this area as well.