Production
An interplay of precision, dynamics and flexibility. We keep moving further, as we want to be able to tackle future challenges successfully.
Pre-press (DTP)
Graphics & Design
Our pre-print team has the required know-how to give your product the right packaging. Upon request, our graphic designers can create finished, individual templates from your concepts without the need for you to hire an agency to do this for you. And of course it is absolutely professional.
Preliminary stage
Etimark AG works with the leading industry software Esko-Artwork. That is why 'just in time' changes can be implemented, the supplied data record can be optimised accordingly to the print process, and printing benefits can be created digitally and imaged. In order for us to guarantee the ideal workflow, we create offset printing plates (clichées) at our facility. We offer you full service on modern machines which are state-of-the-art. The process is environmentally friendly because it is completely solvent-free and without harmful emissions.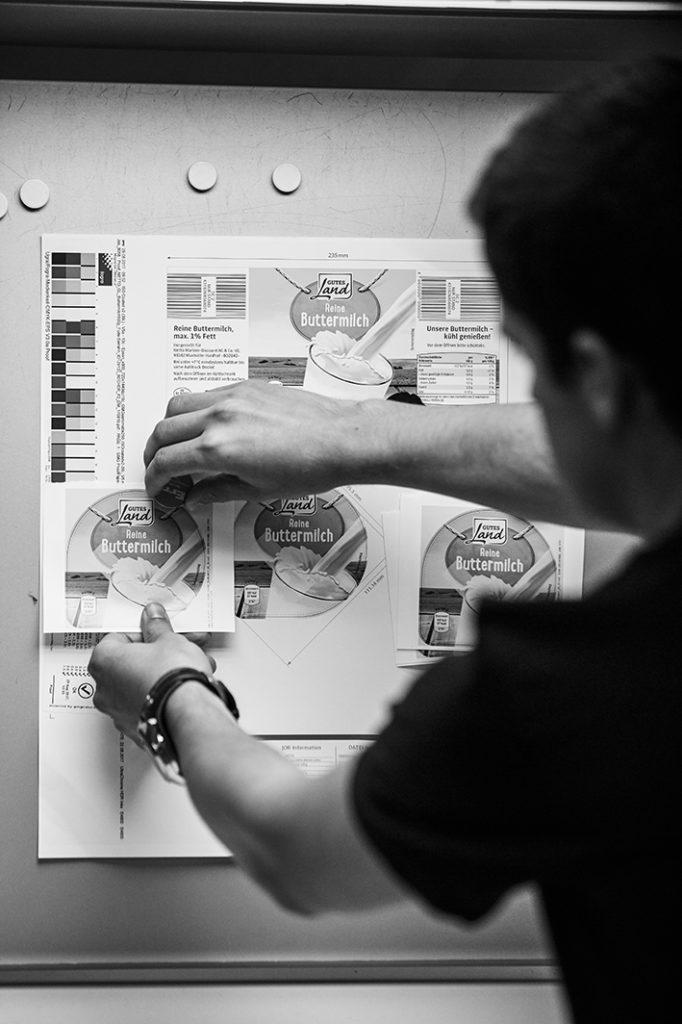 Data delivery
We are glad to receive graphic data via e-mail, FTP or on CD-ROM / DVD. Detailed information concerning data provision and delivery may be downloaded from the Services area.
Archive
The data of all orders we process are stored electronically for 5 years in our own data archive; therefore, they can be retrieved at any time.
Preparation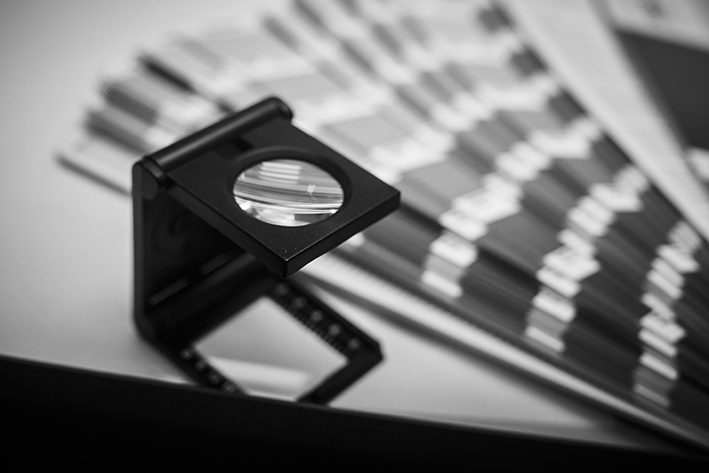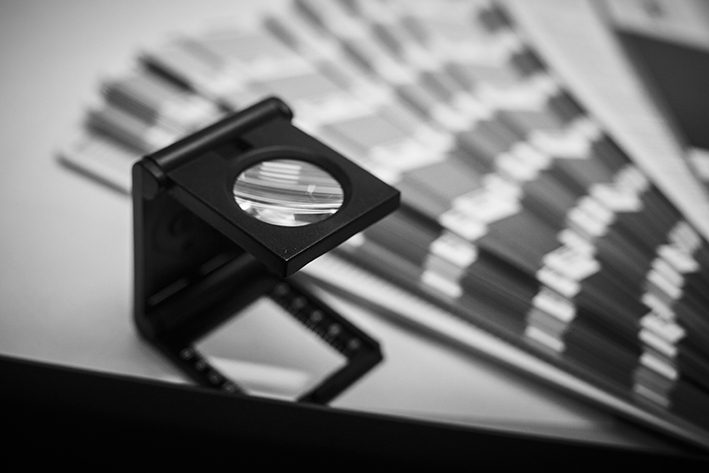 It is at the preparation stage that we lay the basis for the quality of our products
Preparing a print job perfectly means leaving no room for imperfections. With the order papers, impression cylinders, colours and printing material are ready. Mounting the printing plates and mixing inks is an operation that requires perfection. With our new colour mixing and dosing system, we achieve a high degree of accuracy and reproducibility, combined with the greatest ease of use. It is thus possible not only to mix the exact quantity of special colours required, but also to use a large number of already existing colours for new recipes. In this way, we further contribute to protecting the environment and to preserving resources by greatly reducing the colour waste.
Printing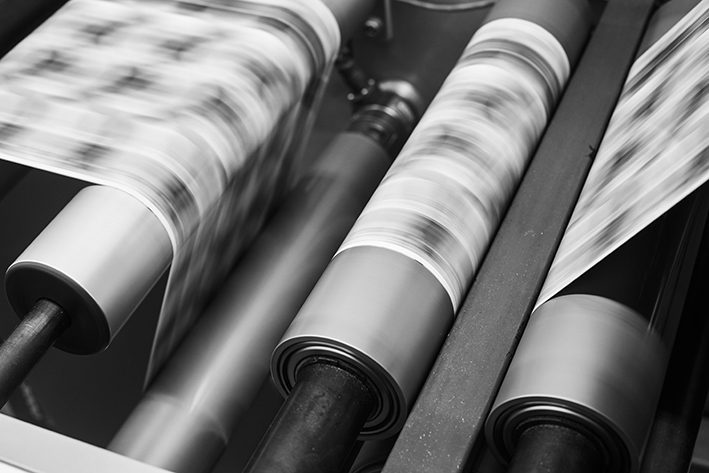 Effective flexo printing
In the name of our printing machine MPS 330 EF, the acronym "EF" stands for "Effective Flexo". The machine's effectiveness is ensured first of all by the servo drive. Thus, even single foils that are sensitive to heat can be easily printed without colour fringing. The multi-drive technology makes it possible to transport the material pipeline independently of the printing or finishing process. Crisp.Dot is a technology that ensures minimal dot gain, best ink coverage in solid areas and sharper reproduction of small font sizes. The quality of our print results is close to that of offset printing – and we achieve these results with up to 8 colours. Thanks to our integrated silkscreen, lamination and foil embossing stations, we also manage to fulfil demanding requirements in terms of finishing results.
UV flexo printing
The UV flexo printing process is a letterpress printing procedure in which pre-existing parts of the printing plate are used to absorb and transfer colours. Since flexographic printing plates are particularly elastic, they are especially suitable for varnishing. The inking systems have a simple structure: the printing plates colouring process is executed by means of anilox-rollers. The indentations on the roller surface enable the roller to transport a defined quantity of ink. This, in turn, allows for a high level of standardisation. While solvent or water based inks are dried physically, in UV flexo printing a polymerization of colours or varnish is obtained by exposure to UV rays (beam hardening). The hardening reaction takes place in a split second. This helps reduce typical symptoms of the flexo printing process caused by the elastic printing form, such as pinched edges or high dot gain. As they are solvent-free, UV hardening inks are particularly environmentally friendly.
Digital printing using the inkjet process
Next generation lid and label manufacturing. In contrast to conventional printing processes such as UV flexographic printing, offset printing or gravure printing, inkjet is a contactless printing process and therefore does not require any printing plates.
Our goal – cost-optimized production
The color print result is identical in both inkjet and UV flexo printing. We decide for each order – small runs, first runs and test runs are produced in the inkjet, large runs are conventionally produced in UV flexo printing.
Pressroom for lids
Currently, all our high-end punching machines boast absolute measuring precision of the blanks, exact punching centring and excellent feed precision. The efficiency of our team is further strengthened by the presence of highly qualified personnel with machine-specific training, by the easy components replacement process and by extreme reliability. We will be glad to tell you more about the variety of our cutting and creasing formats.
But that's not all: Chads are entirely delivered to recycling facilities via a fully automatic process.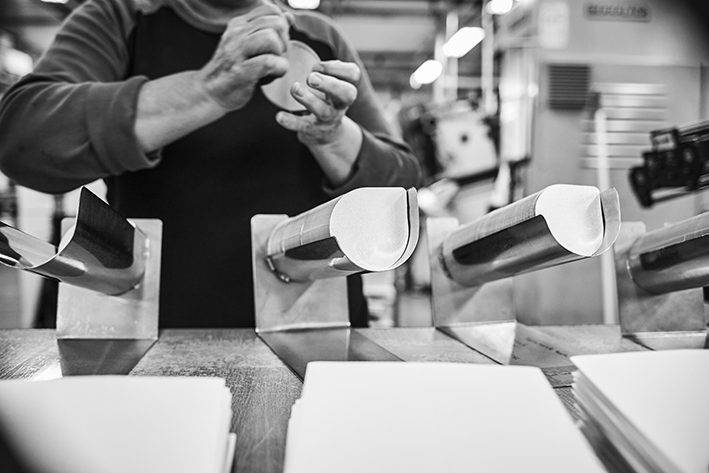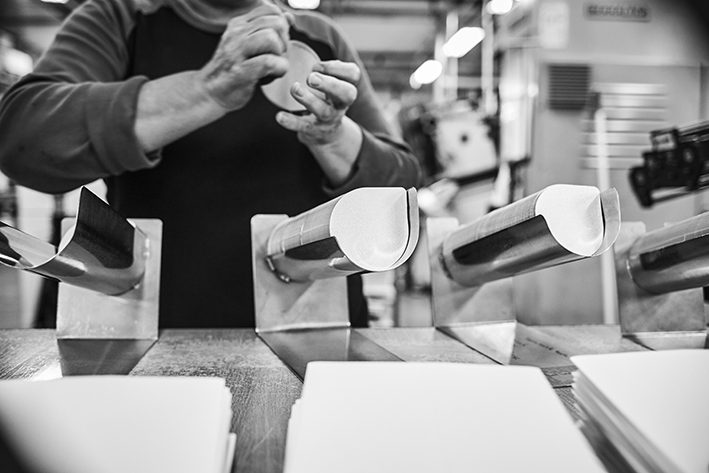 Standard
Worm-shaped embossing (aluminium, paper composite)
Dot embossing (aluminium)
Hammer-finish embossing (aluminium)
ETIgral® embossing (aluminium)
ETIgral3D® embossing (aluminium)
Upon request, we may certainly develop your own "personal embossing" format.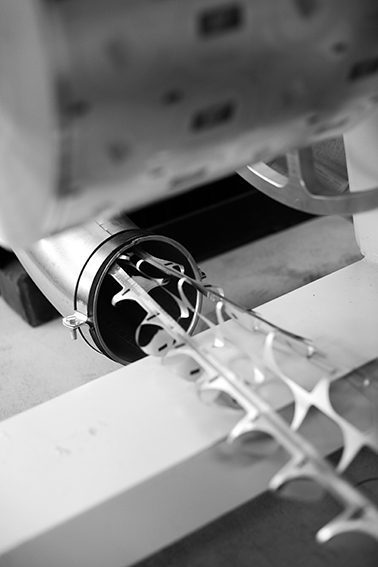 Ready-made labels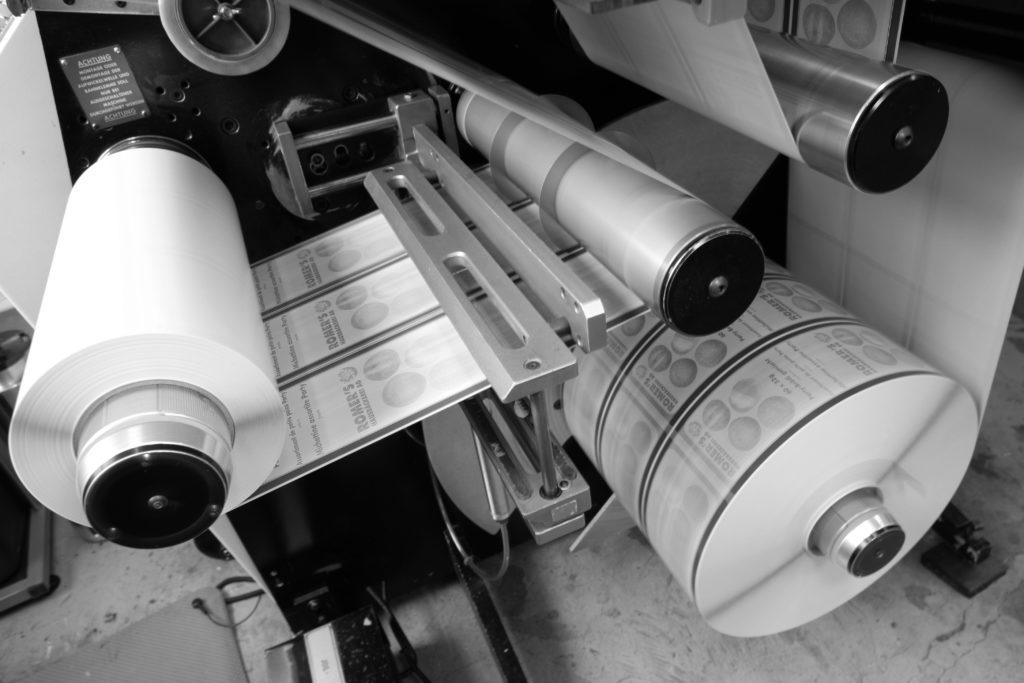 On our cutting systems, we assemble your labels and roll goods according to your specifications.
We subject the labels to a 100% inspection.